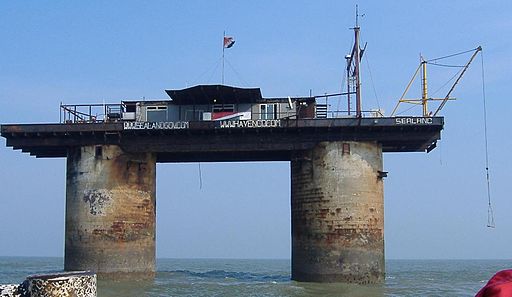 In 1968, British workmen servicing a navigational buoy off the South East Coast of England were threatened by warning shots, fired from a decommissioned naval sea fort. The case was brought to the courts in England on firearms charges but could not proceed as the fort was beyond the 3 – nautical mile limit of country waters, and therefore was outside British territorial limits.
Who was the shooter? The son of the self-proclaimed King of Sealand, Roy Bates.
Sealand started from humble beginnings. Originally known as HM Fort Roughs, the naval fort is an offshore platform in the North Sea that was deployed in the 40s to defend vital shipping lanes from Nazi attacks. It was abandoned in 1956. A decade later it was settled by a father-daughter pirate radio team, operating Wonderful Radio London. They enjoyed the run of the fortress for just two years before being ejected by rival pirate radio broadcaster, Radio Essex, led by Roy Bates.
Roy never got around to broadcasting his radio channel. He instead declared independence of Fort Roughs, and deemed it the principality of Sealand, founded in 1967. The infamous shooting incident occurred in 1968 and was taken by the inhabitants of Sealand to be the UK's first de facto acceptance of their country.
Ten years later in 1978, Sealand was invaded, and Crown Prince Michael taken hostage by a group of German and Dutch businessmen. Roy launched a successful counterattack to reclaim the fort, and then held the intruders as Prisoners of War. A German diplomat asked Britain for intervention, but after discovering they did not have jurisdiction, the diplomat had to treaty with Sealand directly. The negotiations were complicated by the fact one of the Germans held a Sealand passport and was therefore accused of treason. The situation took several weeks to resolve.
As a result of this diplomatic incident, Sealand then claimed that Germany had given their de facto recognition as well.
Today due to a change in legislation, Sealand sits inside UK territorial waters so is now subject to British rule. All Sealand passports (numbering in the hundreds of thousands) have been revoked after a nasty incident involving money laundering operation in Russia and Iraq. The fort was badly damaged in a fire in 2006, but most recently on sale in 2010 for an asking price of $906 million USD.
King Roy Bates passed away in 2012 and since then Sealand has been administered by his son Michael. Michael now lives in Suffolk and runs a family fishing business.
Sealand caught the public imagination and struck a chord with rebels and radicals around the world. Roy was once quoted as saying 'I might die old, or I might die young, but I won't die bored". If you knew you had limited time left to make your mark on the world, what would you do to ensure you don't die bored?