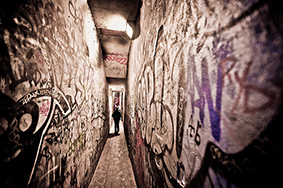 Narrow and winding streets can inspire excitement, curiosity and even dread. But they often hold the secrets of city, kept out of sight from the majority who visit.It is easy to ignore these mysterious passageways, but to do so is a missed opportunity as frequently they are home to the most fascinating sights of all.
In Tokyo, the Daikanyama neighbourhood is comprised of a maze of tight, winding streets filled with boutiques and cafes, but the true hidden gem is the easily-missed street art and graffiti. While it can feel like you are walking through a labyrinth, be guided through the alleys by a local artist and you will feel right at home. Stopping to understand the visual highlights you will gain a deeper connection to this seemingly impersonal city.
Rurrenabaque in Bolivia is packed with narrow roads all buzzing to the sound of moto carros (tuk tuks). There is something really bold and exciting about landing in this tiny town with nothing but jungle for miles around, then hurtling down tight, winding streets on the back of a tuk tuk - full of anticipation. This jungle town has a totally different feel to the colonial Andean settlements and here narrow, winding paths lead off to the rainforest where untold adventures await.
Or wander the dark and brooding streets of Transylvania's Sighişoara for a journey back in time. This 12th century Saxon citadel town looks like a Dracula film set, from the dusty lower town to the steep climb up to the citadel adorned by a fairy-tale clock tower. Every detail is still intact from the covered wooden steps up to the Gothic church on the hill to the ancient medieval houses lurching into narrow cobble-stoned streets.
Each of these places has its own unique character and the people that inhabit them are a vital ingredient. However, visit them at night when they are deserted and each will reveal its own silent essence and natural charm.
Contact us to discover the secrets at the end of more narrow and winding streets.