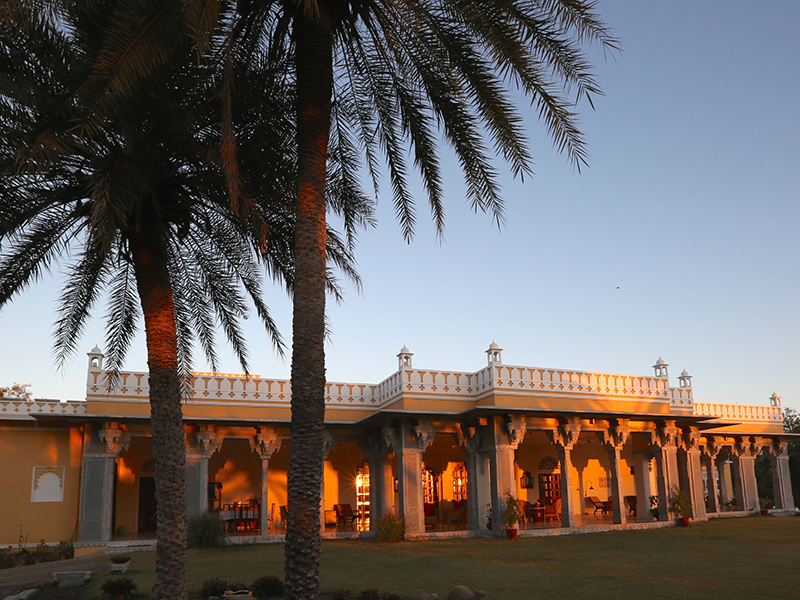 "Let your life lightly dance on the edges of time like dew on the tip of a leaf." Rabindranath Tagore
India - a subcontinent of 1.25 billion souls, synonymous with teeming megacities and sensory overload - isn't the obvious choice for travellers seeking tranquillity. However, beyond the hustle, bustle and riotous colour, sit reposing remote terrains, lives untampered by urban clamour, evolving traditions and a deep spirituality of reflection and inner-peace. It is a land that urges the traveller to slow down, take a breath and sink into the serene fabric of local life.
Contrary to what many travel writers and companies tote, searching for serenity in India need not mean checking yourself into a luxury Ayurveda retreat or brushing up on your sun salutations. Below we touch on just three of many destinations on the subcontinent, whose serenity will make for genuinely peaceful and reinvigorating journeys.
After the monsoon has been and gone, temperate climate and flourishing flora and fauna makes Winter the perfect season to experience India.
Amid the cedar-cloaked Himalaya, are home to the Tibetan government, several thousand exiles and the official residence of the Dalai Lama. Terraces of flat-roofed buildings; omnipresent Buddhist prayer flags; the gentle hubbub of school children; crimson-robed monks fingering prayer beads climbing the steep lanes and hunched intently over chess in tiny cafes; markets splendid with traditional thangka paintings; comforting bowls of steaming thukpa (noodle soup) and exquisitely-satisfying momos (dumplings). All fuse to emanate the unique calm of 'Little Lhasa'. Buddhism, the quiet melancholic lament of a displaced people and their welcoming openness to visitors make for an atmosphere to be cherished.
Spend a night or two at Chonor House, owned by the Tibetan Government in Exile and with just 11 rooms, the simple setting and Tibetan themed décor reflects the effortless wonder of the destination. Namgyal Monastery is the beating heart of the town's religious community and a visit in the early afternoon sees monks debate theology in a highly-stylized and captivating ritual. If the Dalai Lama is in town, we can arrange for an audience.
It is easy to imagine the British Raj savouring visits to hill stations to escape the heat of the lowlands. At 6,000 feet above sea level, framed by snow-capped mountain ranges, the air quality alone in is enough to have you feeling revived and headily contemplative. Emerald plantations stretch as far as the eye can see, complemented by colonial architecture and the romantic steam train that weaves its way up the mountain. And then there is the tea. Nothing says serenity like the perfect cuppa, and in Darjeeling you will encounter the history, growing and production process and taste the very finest examples of this aromatic and influential commodity.
The landscape is a veritable paradise with a diverse gambit of flora and fauna. Hike down to Glenburn Camp on the banks of the Rungeet River and relax over a barbeque picnic lunch in the heart of the 1000 acres of private Glenburn forest with views across Sikkim. Base yourselves at Glenburn Tea Estate for indulgent Afternoon Tea, private tours of the tea fields, factories and tasting sessions.
Many itineraries will take you through the magnificent (but frenetic) cities of Jaipur, Jodhpur and Udaipur. Plotting an alternative path through the Land of Kings allows you to revel in the mystique of ochre-coloured sands and rural custom. Sleepy evokes 12th century magic. Crumbling havelis (grand townhouses) are reflected on the water of the holy lake and shadowed by a ruined fortress overrun with monkeys – reputedly Kipling's inspiration for The Jungle Book. Its garden restaurants and jharokha (ornate window seats) are un-bested spots for contemplation. In the rural village of Deogarh, Dev Shree homestay is made exceptional by the heartfelt hospitality of Bhavna and Shatrunjai. Simple pleasures such as chai in the local shop and meeting the neighbours will feel like prized luxuries against a majestic landscape. Rather than an obligatory and fleeting camel safari into the Thar Desert, why not head to Rohet Garh, with a family of horsemen who will take you out across the dunes on a Marwari steed? Jeep safaris and wildlife spotting in the Rathambore Reserve can serve to quicken the pulse and pace of your trip if desired.
Everyone unwinds differently. If it's a beach holiday you are dreaming of, we'll look at alternative destinations such as spiritually intriguing Gokarna, over Goa's famed white sand. If you are drawn to India's metropolises we can create oasis like moments amid your trip – High Tea at the Taj Mahal Palace Hotel in Mumbai or a private Ganges boat ride, contemplating death at dawn in Varanasi.
If these serene snippets have caught your imagination, why not get in touch to explore an India that best unravels the knots of daily life, for you and your party.