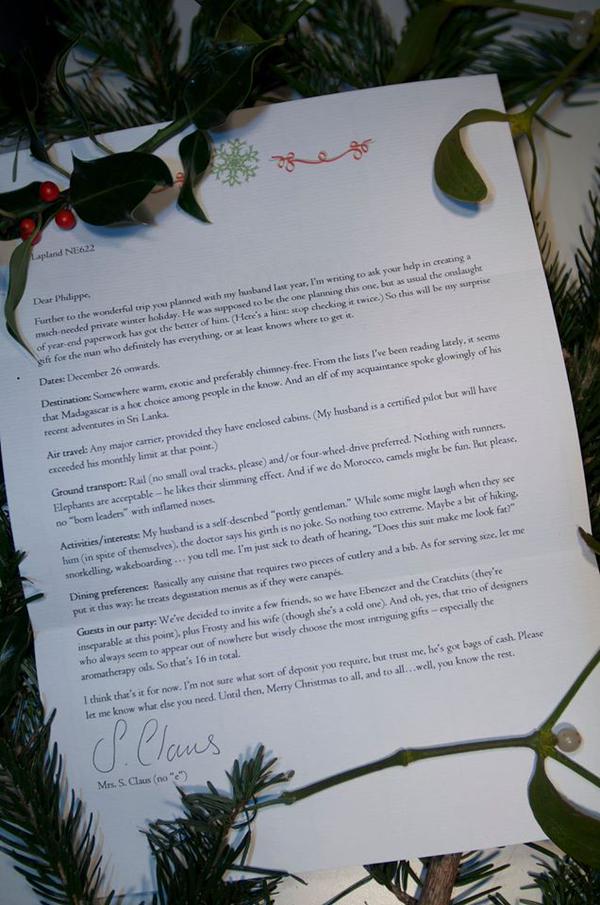 ​It's lovely to hear hear from Mrs Claus once again, and we'll definitely create another journey fit for such important clients and their friends:
Dear Philippe,
Further to the wonderful trip you planned with my husband last year, I'm writing to ask your help in creating a much-needed private winter holiday. He was supposed to be the one planning this one, but as usual the onslaught of year-end paperwork has got the better of him. (Here's a hint: stop checking it twice.) So this will be my surprise gift for the man who definitely has everything, or at least knows where to get it.
Dates:
December 26 onwards.
Destination: Somewhere warm, exotic and preferably chimney-free. From the lists I've been reading lately, it seems that Madagascar is a hot choice among people in the know. And an elf of my acquaintance spoke glowingly of his recent adventures in Sri Lanka.
Air travel:
Any major carrier, provided they have enclosed cabins. (My husband is a certified pilot but will have exceeded his monthly limit at that point.)
Ground transport:
Rail (no small oval tracks, please) and/or four-wheel-drive preferred.Nothing with runners. Elephants are acceptable – he likes their slimming effect. And if we do Morocco, camels might be fun. But please, no "born leaders" with inflamed noses.
Activities/interests:
My husband is a self-described "portly gentleman." While some might laugh when they see him (in spite of themselves), the doctor says his girth is no joke. So nothing too extreme. Maybe a bit of hiking, snorkelling, wakeboarding … you tell me. I'm just sick to death of hearing, "Does this suit make me look fat?"
Dining preferences:
Basically any cuisine that requires two pieces of cutlery and a bib. As for serving size, let me put it this way: he treats degustation menus as if they were canapés.
Guests in our party:
We've decided to invite a few friends, so we have Ebenezer and the Cratchits (they're inseparable at this point), plus Frosty and his wife (though she's a cold one). And oh, yes, that trio of designers who always seem to appear out of nowhere but wisely choose the most intriguing gifts – especially the aromatherapy oils. So that's 16 in total.
I think that's it for now. I'm not sure what sort of deposit you require, but trust me, he's got bags of cash. Please let me know what else you need. Until then, Merry Christmas to all, and to all…well, you know the rest.
Mrs S. Claus (no "e")