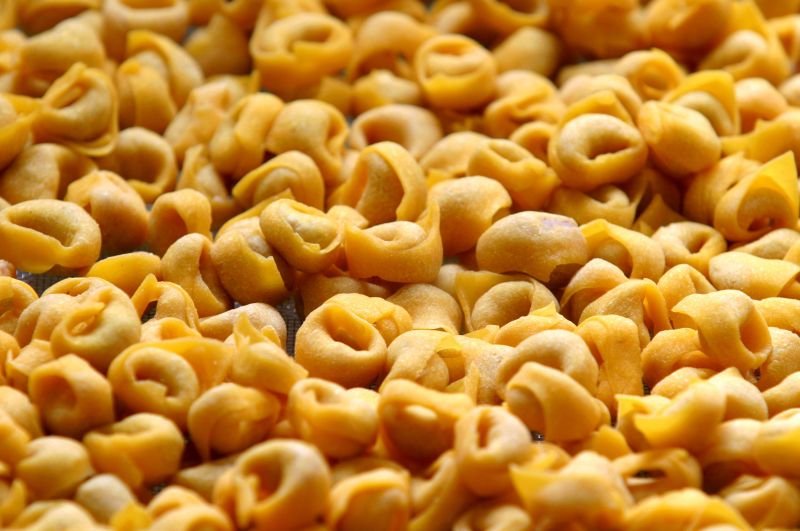 Bologna houses the oldest University in Europe and this is perhaps the reason that Bologna carries the nickname "La dotta" which means the learned. It also bears the name"La rossa" on account of its red roofs and its russet porticoed architecture. The Bolognesi people are also wholeheartedly passionate about food and the town is famed for its excellent cuisine. This is why its other nickname is "La grassa", which is translated as the fat lady. Fusing haughty elegance with down-to-earth grit, Bologna sits about 50 miles north of Florence and in my mind, has a little something for everyone from history buffs, to those fascinated by architecture, those who like art history and even modern art.
In Bologna you will find magnificent architectural wonders such as the church of Santo Stefano and the iconic Due Torri (Two Towers). Known for its miles of portici, Bologna is home to 666 arches that lead to the Santuario della Madonna di San Luca, making this the perfect place for those interested in history, architecture, art and food. When you reach the top, you will find the UNESCO-heritage designated basilica with its painting of St. Mary. This painting was allegedly created by Luke the Evangelist and is said by some, to have been brought to Bologna from the Middle East in the 12th century. Knowing you are likely to spend a great deal of time eating here, a hike around this beautiful city will make for a perfect activity inbetween. For those more into their art than their architecture, a great place to explore is the Pinacoteca Nazionale di Bologna.Of its large collection, particular mention should go to works of the artists of the 14th century Bologna school, such as Annibale Carracci, Domenichino and Guercino. Other major Italian painters, including Raphael and Guido Reni. Why not peruse these paintings with a renowned artist on hand to give you a deeper sense of meaning and thinking behind each of the paintings on show here.
Finally, I couldn't go much longer without mentioning the food you will find. It is perhaps the most internationally recognised in Emilia-Romagna. Having made so many contributions to the food scene, Bologna is considered by many Italians to be the food capital of Italy. The birthplace of tortellini, tagliatelle alla Bolognese, lasagne and mortadella, why not experience the richness of Bologna's culinary scene yourself? Why not head to the old medieval market and food shopping area, the Quadrilatero. The market has occupied the same area in the city centre since Roman times; its height was during the Middle Ages when, besides the many shops, it was home to the headquarters of merchants which began to acquire great power with the shift to a new monetary economy. The streets here take their names from the types of shops and corporations that used to be based there: via Pescherie is where the fishmongers were situated, via Orefici housed the goldsmiths, via Caprarie was home to the butchers and via Drapperie was for the upholsterers.
Bologna is synonymous with tortellini and great legend has it that their shape takes inspiration from Venus' navel. The recipe for authentic tortellini was registered with Bologna's Chamber of Commerce in 1974 and consists of dough made with flour and eggs. The filling contains pork loin, raw ham, mortadella di Bologna, Parmesan cheese, eggs and nutmeg. One of Bologna's emblematic figures, the sfogline, are the keepers of the city's important tradition of hand-made pasta. Women patiently knead and roll the dough so it gets to the right thickness and they then stuff, twist and seal them so they take their characteristic shape without breaking and leaking the precious filling. Bolognesi people believe that in order to enhance its taste, it should be eaten with a broth of capon or hen. Typically a winter dish, the Bolognesi often have it for their Sunday lunch and it is always part of the traditional Christmas meal.
I should also mention the incredible ragù Bolognese. The official recipe (like that of tortellini) rests with Bologna's Chamber of Commerce and has done since 1982. As with many great replicated recipes there are many variations, but if you are to ask a Bolognese woman how she cooks her ragu, you will never find the answer as the great flavour lies in the secret ingredients they like to add themselves. The most important one is of course minced beef and the tomato based sauce which should cook for hours so as to truly enhance the flavour. Ragù goes well with many types of pasta, but in Bologna you will find it is served only with tagliatelle and lasagne. Here you will never find ragù served with spaghetti as the Bolognessi consider this to be an insult. Why not explore the restaurants, bars and culinary secrets of this magnificent place with a revered chef on hand to teach you about the intricacies and delicacies on offer. Indulge in a personalised cookery class with a professional who will teach the antiquated art of tortellini making whilst learning the history behind its food and markets.
For anyone travelling to Italy, I feel that this is one of Italy's best kept secrets and I wanted to share it with you before the word gets out. With Brown + Hudson we add the experience, intrigue and knowledge of incredibly inspirational people to bring your place of interest alive. Just let us know where you would like to go and who it is that inspires you, leave the rest to us.
If you would like to plan your next journey to Italy with Brown + Hudson, contact us in our London office on +44 203 358 0110 or email.