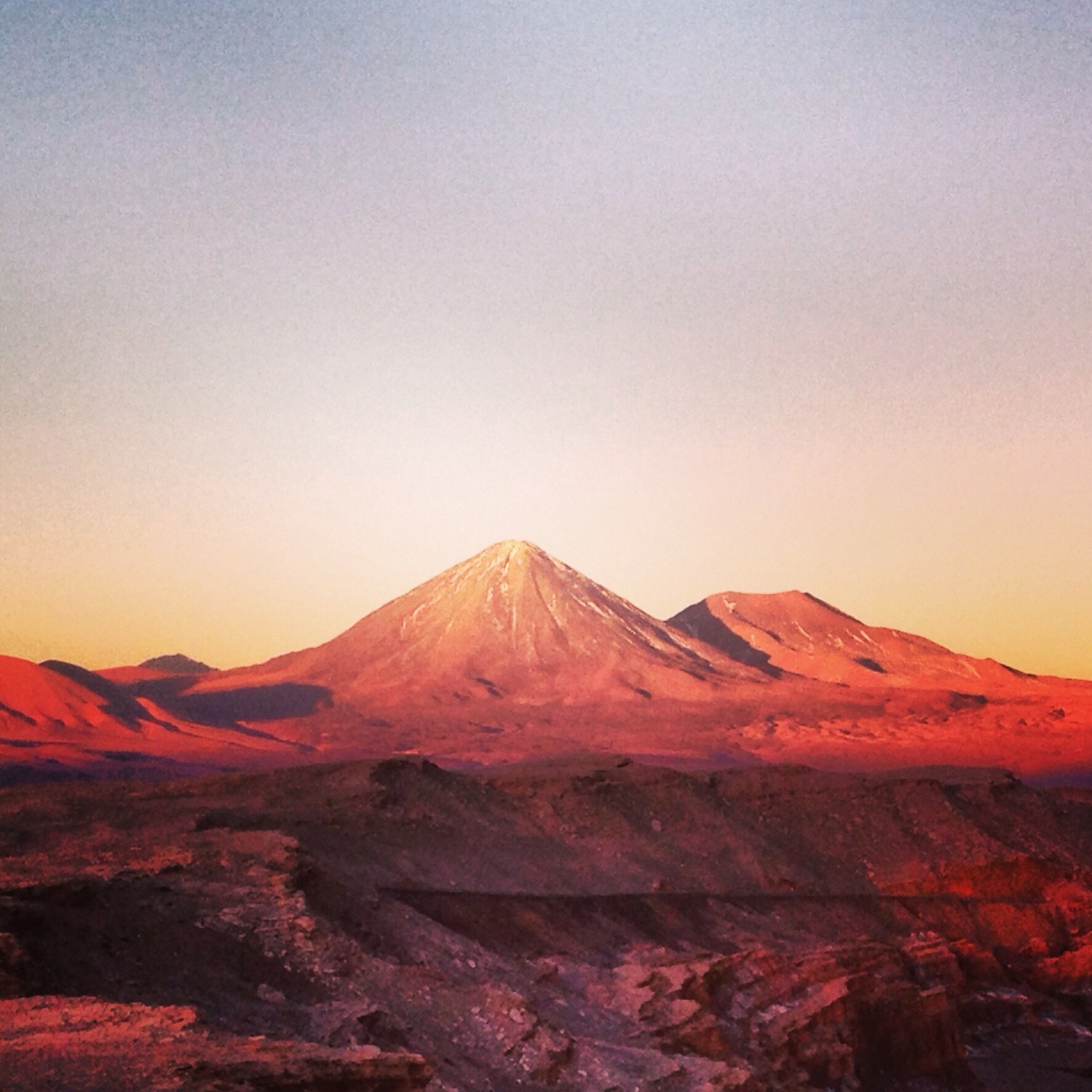 From fiery red canyons turning to marmalade hues of orange; turquoise thermal lakes glistening in the dry heat of the Chilean sunshine; violently spouting geysers and serene cobalt lagoons - Chile's Atacama Desert is not only the driest place on Earth but incredibly interspersed with natural wonders that truly astound. From the arid flatness of the desert floor juxtaposed with imposing volcanoes rising some 20,000ft into powder blue skies, the sheer vastness and interchanging landscapes catch my attention, welcoming me back to the land I have been before. From the friendliness of its people and blend of culture, to the inviting scent of empanadas and refreshing pisco, all of which is topped off by the far-fetched beauty of Chilean landscapes - who wouldn't want to explore?
A terrain strikingly laid out for epic exploration, take heed and journey to the city of Calama. The road onwards to San Pedro - in Chile's iconic Atacama Desert - is perhaps the straightest I've ever come across with nothing but rolling terrain for miles around adding to a real sense of calm and peaceful isolation. I have quickly come to understand why this part of our planet is often compared to the landscape of Mars.
When we finally reach our destination - the beautiful Alto Atacama - I am instantly taken with the way its terracotta stone architecture and wicker woven roofing blend so seamlessly with the horizon, offering a glimpse of the experience I am about to embark upon. Spending three nights at Alto Atacama, surrounded by the lush Catarpe Valley of the Salt Mountain Range, I am fortunate to be steeped in luxury yet surrounded with an abundance of things to see, experience and explore. My days here drift by in a haze of sumptuous food and incredible, awe-inspiring adventure. Sitting in sheer wonder looking out over the Valle de la Luna as the sun sets, I suddenly feel rather small in the world, shrouded and enamoured by the sheer vastness that spreads before me.
The following day I find myself mountain-biking through the narrow valley of Garganta del Diablo or Devil's Throat. Set in a U-shaped vertical arc, shrouded by a light mist and surrounded by national parks full of beautiful flora and fauna - here lay a fantastic challenge worth every moment for the view I was to receive at the waterfalls. Followed by a visit to the steaming El Tatio geyser field - the largest in the southern hemisphere - this is a steaming, alien landscape 4,200m above sea level in the Andes, mystical in atmosphere. Following an early 5.30am rise I venture into the icy wilderness – gratefully warmed and soothed by a steaming hot cup of coca tea. It's difficult to imagine that anyone or thing can actually survive in the Atacama, until coming across small signs of life to make you think otherwise. I notice a bubbling stream appeared from beneath the sun-bleached rocks, jewelled with the odd green shrub protruding from terracotta sandy soil, and although these magical sproutings of nature pop up and question their surrounds, the Atacama still seems to be a large and flat, endless expanse of heat played out in shades of amber created to simply stagger - even those with the most vivid of imaginations.
It's little wonder that NASA uses the landscape here to trial its new gadgets. I left the Atacama Desert under the cover of darkness and headed back to Santiago with a feeling that I'd merely scratched the surface of this vast and staggeringly beautiful place, almost certain that it simply couldn't get any better than this and absolutely positive that I must once again return.